Dyes and stains Part 1 – Lissamine green
Closing Date: 29/06/2018


Have you ever wondered why mushy peas or your favourite mint sauce is so green? It may be because they added Green S food dye (E number E142), which you may recognise as lissamine green.
This vital stain was introduced in 1973 by Norn 1 as an alternative to rose bengal for assessing the ocular surface. The TFOS DEWS II Report 2 recommends that lissamine green (along with Fluorescein assessment) should be used when evaluating ocular surface damage. Using both stains is the most appropriate diagnostic technique for evaluating ocular surface damage and that the benefits of using lissamine green outweighed any risks.
However, lissamine green appears to be underutilised in routine optometric practice and there are a number of potential reasons for this:
Lack of understanding
Belief that use of Fluorescein is sufficient
Making decisions based on other clinical findings or reported symptoms
Cost and time commitments
Supply issues
Confusion over the legal status
This article highlights the merits of lissamine green, along with best practice guidance on when, why and how it should be used.
What is lissamine green and how does it compare to the other dyes used for vital staining?
Lissamine green is an organic dye that is synthetically produced and its molecular weight is 576.6 Daltons. Since 1923, the Biological Stain Commission (BSC) has classified dyes with similar chemical structures according to their chromophores. Lissamine green is a diphenyl-naphthyl methane derivative of the phenylmethane dye, whereas fluorescein and rose bengal fall into the category of xanthine dyes. Despite rose bengal being a derivative of fluorescein, the clinical staining patterns of lissammine green and rose bengal are the most similar, though lissamine green does not fluoresce. Unlike rose bengal which causes ocular irritation, lissamine green is well tolerated making it the preferred choice in optometric practice.
Norm's original research1 concluded lissamine green 'shows a high level of affinity in staining degenerated cells, dead cells and mucous fibrils, with this staining being well defined and easily visualised with a slit lamp'. Whether mucous is stained or whether it is observed as a result of applying multiple stains, has been challenged more recently by Papas.3 More research is needed before we can fully understand what stains actually do4 and numerous researchers are now focusing on this topic.
There is general agreement that lissamine green is useful when assessing conjunctival integrity but has limited use in corneal integrity assessment due to poor visibility against dark iris backgrounds. It only highlights damaged corneal epithelial cells or exposed stromal tissue and significant corneal staining with lissamine green is usually only seen in patients with Sjögren's type dry eye.5 Fluorescein is therefore classed as the 'premier dye' for assessing corneal staining.
Figure 1 Bulbar conjunctival staining with lissamine green
However, the staining properties of lissamine green makes it the best choice for evaluating the integrity of the bulbar conjunctival epithelium (figure 1) and the marginal zone of the conjunctiva (Marx's line) when looking for lid margin changes such as lid wiper epitheliopathy (LWE) (figure 2).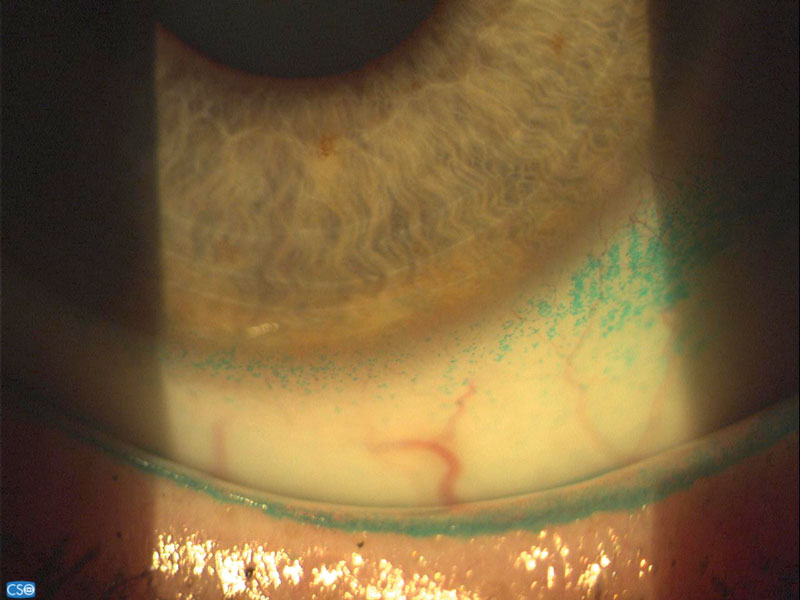 Figure 2: Lid staining with lissamine green
Some patients with dry eye conditions have interpalpebral conjunctival staining often noticed in the nasal and temporal regions showing the importance of inspecting all ocular surface structures during dry eye assessments.
The optimal ocular surface examination uses both fluorescein and lissamine green stains ensuring that any staining is quantified, as advocated by the TFOS DEWS II Report.2 Table 1 compares the stains.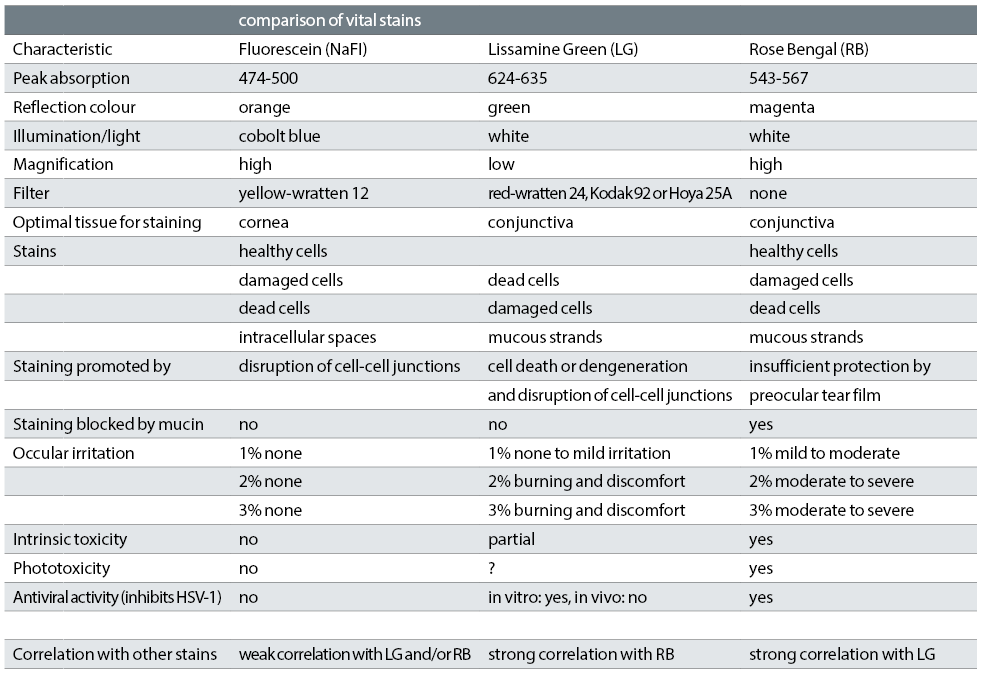 Table 1: Comparisons of dyes, information combined from Alves et al,6 Efron,4 Doughty et al,7 Kim8 and Chodosh et al 9
Legal Status
The position of lissamine green in the UK is interesting as currently it is not a licensed medicinal product but one that following changes currently under review within the EU may require classification in the future. It is available as a CE-marked product for use as a 'diagnostic agent when superficial corneal or conjunctival change is suspected'.
There has been recent confusion regarding its use. The GOC issued advice following the fluorescein consensus panel report that covered the use of fluorescein strips, however, as lissamine green was not discussed by this panel guidance on its use was not included in this statement. The Optical Confederation, College of Optometrists and the GOC are all of the view that as the EU decision has still not been made and there is confusion, a consensus panel has been established. The intention is for the panel to review lissamine green, its safety, and use, then produce a profession wide report in the same way that fluorescein was reviewed in 2013. The panel (which both authors were part of) met at the College of Optometrists in April 2018 and the report will soon be published.
How should lissamine green be used?
Lissamine green has a peak absorption at 624-635nm, the red end of the visible spectrum. When illuminated with white light our eyes will see the reflected or non-absorbed coloured light which is bluish green for lissamine green. Using a red filter (figure 3), for example Hoya 25A or Kodak Wratten 92, enhances visualisation of the dye by transmitting the wavelengths that lissamine green absorbs giving a black appearance, any staining therefore indicates where the dye is present.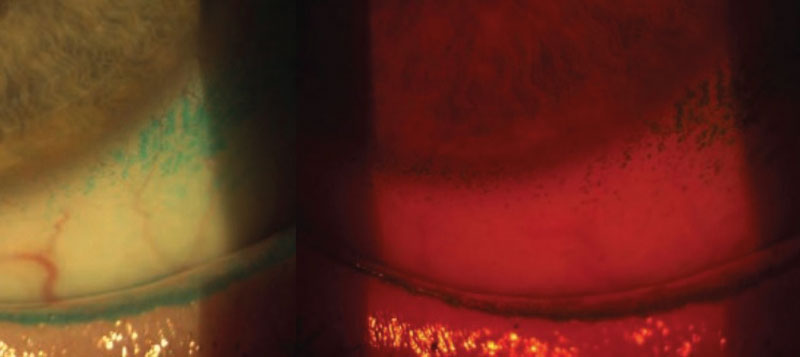 Figure 3: Red filter used for lissamine green assessment
Lissamine green is dose dependant, instilling too little will result in a limited amount of staining. In clinics, impregnated paper strips are popular, these are moistened with about 10-20ul of saline10 and applied to the lower fornix. Most researchers use lissamine green solutions rather than strips, as the quantity applied from a strip can vary. One percent is the optimal concentration, as mild ocular irritation has been reported with 2% and 3% solutions, whereas 1% is generally well tolerated.11
Kim and Foulks12 concluded that the optimal time for evaluating conjunctival staining is between one and four minutes after instillation. Other researchers suggest optimal viewing conditions of two minutes,13 or at two minutes10 as the intensity can rapidly diminish after two minutes. Instant viewing of the staining pattern could result in misinterpretation due to any pooled dye which has not dissipated.
LWE can be viewed with any of the vital stains however, lissamine green is the preferred as the colour is easier to view against the eye lid margins compared to rose bengal.
Korb advocates using lissamine green (1%) and fluorescein (2%) combined.14 Recent researchers/clinicians prefer using the dyes separately as it clarifies exactly what they are assessing, although combining them can save clinicians time without a noticeable reduction in effectivity. Assessing lid wiper is typically done three to six mins following a repeat instillation of lissamine green, using two strips and two saline drops. Repeat eversion should be avoided as this has been found to increase the level of LWE but the second dye instillation does not affect the results.
Even though 1% concentrations give optimal conjunctival staining without leading to ocular discomfort symptom, there have been suggestions that 3%-5% concentrations perform better for LWE assessment, this is unlikely to be achieved using the strips available. Stock et al15 found that a single strip when wetted produced 0.17% lissamine solution, which could result in an underestimation of staining. However, for high street practice, the strips suffice for detecting staining, influencing diagnosis, with severity analysis and management decisions. Kuo et al16 compared strips to 1% solution in dry eye patients and concluded strips can reliably be used as a substitute for 1% solution for accurate diagnosis and follow up of dry eye patients, if an adequate volume of solution is applied to the strip.
Theoretically, a combination of all three dyes could be considered to evaluate ocular surface integrity, however, the lissamine green becomes suppressed by the fluorescein and rose bengal can cause ocular discomfort.
A study by Seitman et al17 found instillation of lissamine green inhibited the detection of suspected herpes simplex virus by PCR (polymerase chain reaction) is contraindicated in these cases where hospital referral is required for testing to confirm the diagnosis.
Lissamine Green Strips
For clinical use, lissamine green is available as 1.5mg impregnated strips. Care should be taken to ensure a CE product is obtained. Some of the strips available are listed below and appear in table 2.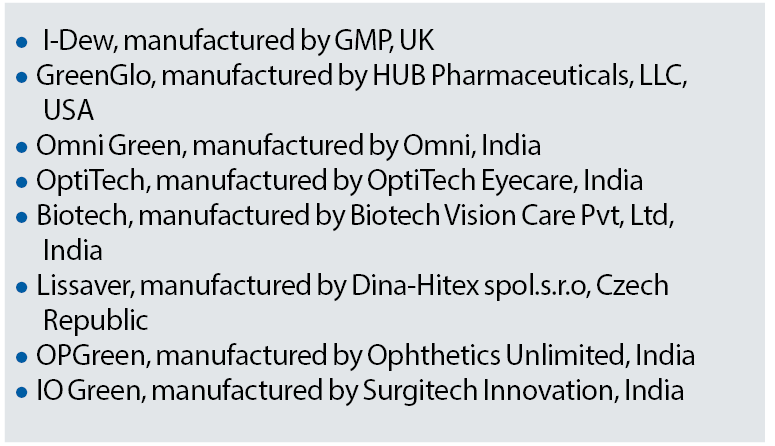 Table 2: Available Lissamine Green Strips
The colouration of the strips can appear slightly different between brands and studies show significant variations in clinical performance between Lissamine Green solutions which were prepared from different manufacturers strips. Delaveris et al18 found higher LWE staining with GreenGlo than Lissaver, followed by OPGreen and Biotech.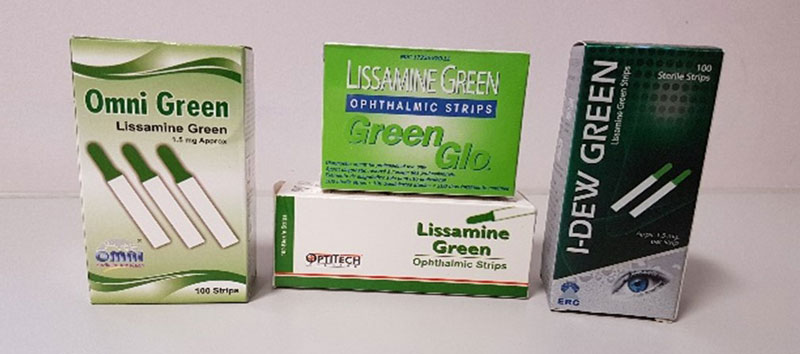 Figure 4: Lissamine green strips


Clinical routine and best practice
The examination should start with a general white light and tear film assessment completed early in the routine as these are the least invasive. The most disruptive tests such as lid eversion and expression of the meibomian glands are carried out last. Figure 5 shows an example examination order.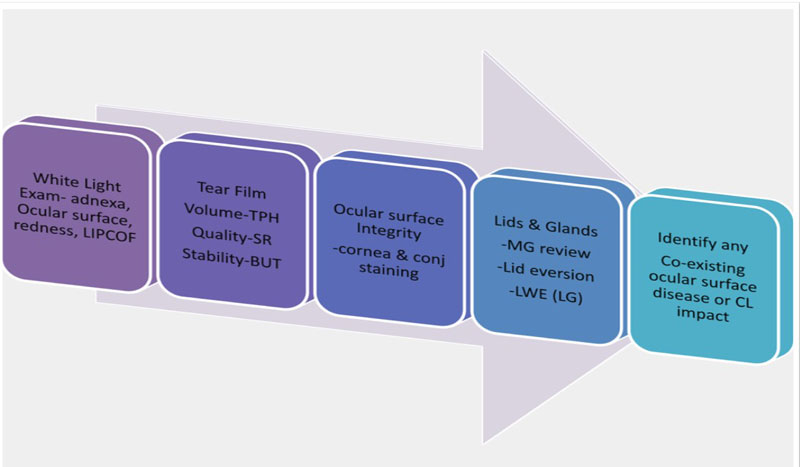 Figure 5: Examination routine
Best Practice Technique (using strips)
Wash your hands and check the strip expiry date.
Use saline to wet the strip without contaminating the saline bottle. (Optometry Students love to do this.) Ensure a whole drop (or two) stays on the strip for more than five seconds.
Apply a large drop of the stain at the outer canthus to avoid ocular surface damage. A larger volume is needed compared with fluorescein.
Evaluate one to four minutes post instillation using white light, low illumination (some also advocate using a red filter).
Assess cornea and conjunctiva – use grading scales and sketch/image the findings.
Add a second drop after five minutes and evert the upper lid to assess the lid margins three to six minutes later, also inspect the lower lid margins.
Irrigate the stain from the eyes, the dye is not contact lens compatible.
For any discoloured surrounding skin, use a wipe with some oil or ointment as the dye is not water soluble.
If combined assessment of both stains is required then both strips can be wet and applied at the same time, if done separately apply fluorescein first. More lissamine green is needed than fluorescein, so consider using two strips of lissamine green together with one fluorescein strip.
Grading scales
There are several grading scales for use with lissamine green, examples include:
Simple descriptions of staining patterns – which may lack accuracy and observer reliability.
Van Bijsterveld19 – three tier grading scheme for the cornea and conjunctiva – grade spots as few, many, or confluent (score out of nine), a simple approach but lacks definite cut off points.
Popular anterior eye health grading scales such as photographic (CCLRU/BHVI) or artist rendered (Efron)-originally designed for use with fluorescein so may lack reliability when used with lissamine green.
National Eye Institute/Industry Workshop guidelines (1995) – five areas each scored to total 15 cornea and nine conjunctival. Each scored on 0-3 scale.
Oxford scale (1984, revised 2003) log scale of increasing number of dots across cornea and conjunctiva. O-V pictorial scale and used with any stain.
SICCA-Ocular staining score (2010) – grade cornea with fluorescein and conjunctiva with lissamine green. 0-3 scale. dependent on dot number with extra points for specific features. Total score out of 12 per eye (figure 6).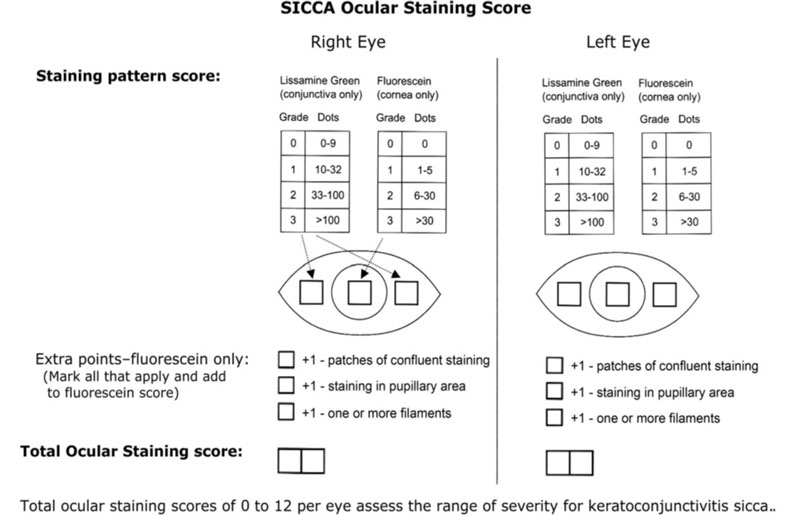 Figure 6: SICCA grading scale, from Whitcher et al.13 Key; LIPCOF = lid parallel conjunctival folds; TPH = tear prism height; SR = Schirmer test; BUT = break-up time; LWE(LG) = lid wiper epitheliopathy (lissamine green)
The authors' preference is the ocular staining score system, which is a modified version Oxford scale developed by the Sjogren Syndrome International registry. This is simple to use, allows grading corneal and conjunctival staining spots using the different dyes and allows for relevance of other staining features to be considered.
In the TFOS DEWS II report (2017), dry eye disease diagnosis includes staining signs such as more than five corneal, spots, more than nine conjunctival spots, this grading system which complements this grading system. However, additional scales are needed to judge LWE. All grading should be supplemented in record keeping with sketches/digital imaging to document the staining observed.
For LWE the authors favour the Korb grading system.20,21 The horizontal and average width is graded (table 3) and the final LWE grade is the average of individual grades. The TFOS DEWS II Report has as one of the options in the diagnostic criteria as >2mm in length, >25% width, so grade 1 and above using Korb's system.

Table 3: Korb grading classification
Conclusion
Lissamine green has been used effectively in the UK, particularly in the assessment of changes associated with dry eye disease and is advocated in the TFOS DEWS II Report (2017) as part of a best practice routine in the evaluation of the ocular surface integrity, especially of the conjunctiva and lid margins.
Lissamine green should be used in clinical practice to assist with diagnosis and severity level analysis of dry eye disease, investigation of at risk contact lens patients (especially those with symptoms of discomfort), as well as evaluation of patients undergoing/following surgery – such as cataract or refractive surgery. It can be used as a motivational tool to highlight improvements to the ocular surface following treatments or/and to demonstrate why compliance to a particular management plan is needed.
Neil Retallic is an optometrist and Learning and Development Manager with Vision Express. Sarah Farrant is a therapeutic optometrist with a specialist interest in dry eye disease practising in Somerset, UK.
The Lissamine Green Consensus Panel Report will soon be published and sent to the MHRA with a view to a statement from the GOC. Both authors are panel members.
References
Norn, N. S (1973). Lissamine Green: Vital Staining of Cornea and Conjunctiva. Ophtalmologica, 51, 1-9.
TFOS DEWS2. http://dx.doi.org/10.1016/j.jtos.2017.05.001
Papas, E (2014). Lissamine Green versus Rose Bengal. Contact Lens Spectrum, 29. 16-17
Efron, N (2013). Putting vital stains in context. Clinical and Experimental Optometry, 96(4), 400-421
McDonnell, C (2010). Lissamine green. Optician, 26-30.
Alves, M et al (2014). Comparison of Diagnostic Tests in Distinct Well-Defined Conditions Related to Dry Eye Disease. Plos One, 9(5) 1-7
Doughty, M & Glavin, S (2009). Efficacy of different dry eye treatments with artificial tears or ocular lubricants: a systematic review. Ophthalmic and Physiological Optics, 29(6), 573-583.
Kim, J (2000). The use of vital dyes in corneal disease. Current Opinion in Ophthalmology, 11(4), 241-247.
Chodosh, J et al. (1994) Staining characteristics and antiviral activity of sulforhodamine Band lissamine green B. Invest Ophthalmol Vis Science 35, 1046-1057
McGinnigle, S et al (2012). Evaluation of Dry Eye. Survey of Ophthalmology, 57(4), 293-316.
Korb, D et al (2008). An Evaluation of the Efficacy of Fluorescein, Rose Bengal, Lissamine Green, and a New Dye Mixture for Ocular Surface Staining. Eye & Contact Lens: Science & Clinical Practice, 34(1), 61-64.
Kim J & Foulks G (1999). Evaluation of the effect of lissamine green and rose bengal on human corneal epithelial cells. Cornea, 18(3) 328-32.
Whitcher, J et al (2010). A Simplified Quantitative Method for Assessing Keratoconjunctivitis Sicca from the Sjögren's Syndrome International Registry. American Journal of Ophthalmology, 149(3), 405-415.
Korb, D et al (2006). Lid wiper staining and sequential Fluorescein instillation. Invest Ophthalmol Vis Sci. 47 1-7
Eom Y, Lee JS, Keun Lee H, Myung Kim H, Suk Song J. Comparison of conjunctival staining between lissamine green and yellow filtered fluorescein sodium. Can J Ophthalmol. 2015 Aug;50(4):273-7
Kuo et al (2004) Comparability of ocular surface staining by Lissamine Green–impregnated strip and 1% Lissamine Green solution in dry eye patients. Investigative Ophthalmology & Visual Science,45, 81
Seizman et al. Rose Bengal and lissamine green inhibit detection of herpes simplex virus by PCR. Am J Ophthalmol 2006;141:756 –758.)
Delaveris, A (2018). Comparative performance of lissamine green stains. Contact Lens and Anterior Eye, 41, 23-27
Van Bijsterveld OP. (1969). Diagnostic tests in the sicca syndrome. Arch Ophthalmol 82: 10-14.
Korb D et al (2005).Lid wiper epitheliopathy and dry eye symptoms. Eye Contact Lens (1), 1-8
Korb et al (2010) Prevalence of Lid Wiper Epitheliopathy in Subjects with Dry Eye Signs and Symptoms Cornea, 29 (4) 337-383.