Specialist refractive optometrist, Faizah Faruque-Walker shares her experience and offers invaluable insight into modern day cataract and refractive surgery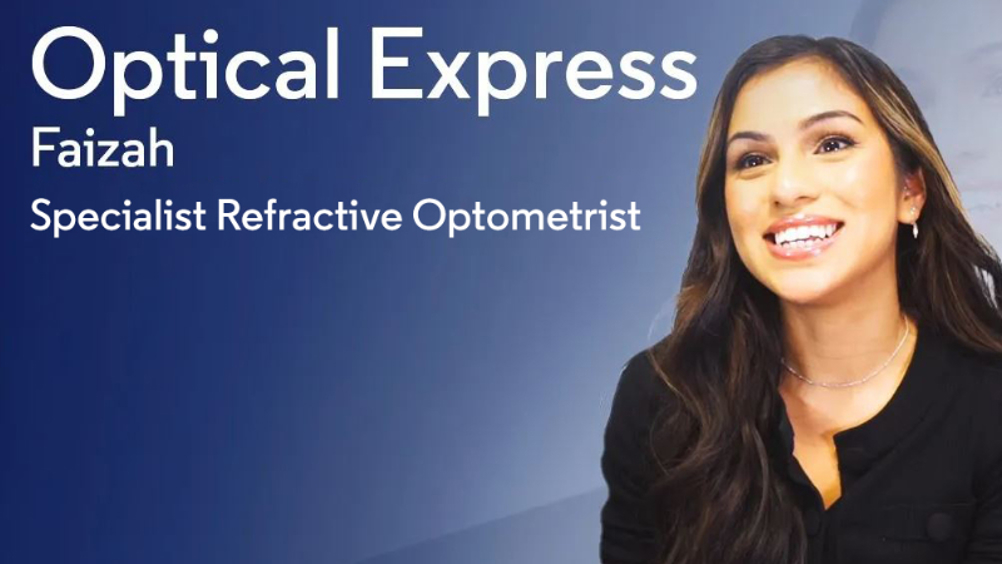 We recently spoke with Faizah Faruque-Walker, a specialist refractive optometrist, who is now confident in providing outstanding refractive care to our patients thanks to our unrivalled training and development opportunities.
Faizah, joined the company in 2022, and has since taken advantage of the opportunities Optical Express offers to grow and develop her career. Faizah described her time at Optical Express so far as, 'the time in my profession and career that I've developed most as a clinician'. Faizah is also taking part as a leader in our recently launched Optometry Shadow Programme.
Learn about our Optometry Shadow Programme
Optical Express, Europe's leading private provider of laser eye surgery, premium intraocular lens surgery and cataract surgery, launched the Shadow Programme earlier this year, offering all qualified GOC registered optometrists the opportunity to shadow an experienced optometrist involved in the refractive surgery pathway. Discussing the programme, Faizah commented: 'You get to see the things you learned about in lectures and in clinics put into practice.'
The paid Shadow Programme offers optometrists the opportunity to meet with fellow professionals to observe their working day, and speak to them about the benefits and challenges a career at Optical Express can offer. Faizah spoke to us about how invaluable this opportunity is, from having the continuous support and guidance throughout her career to learning first-hand from expert ophthalmologists.
After recently having an observer for a day, Faizah commented that the observing optometrist was surprised by the technology we use here at Optical Express. More than £500m has been invested in our clinics and our state-of-the-art technology, the equipment available to our optometrists is truly outstanding, from Pentacams to the advanced iDesign technology that's only available nationwide at Optical Express clinics.
We asked Faizah what the benefits are of taking part in the Shadow Programme, she commented: 'Optical Express offers an aspect of the profession that I've personally never seen before.'
We also spoke to Stephen Hannan, clinical services director at Optical Express, about the programme: 'It is an opportunity to firstly see our own optometrists undertaking pre and post-operative consultations and secondly to work alongside our world-class ophthalmic surgeons and the full multi-disciplinary teams in theatre, who have access to the most advanced surgical technology.
'Participants will have the chance to witness how, day in and day out we transform the lives of our patients through surgical vision correction, to include those that attend for premium cataract surgery. We look forward to providing participating optometrists with a truly eye-opening experience.'
External optometrists who take part in the programme will earn Continuing Professional Development (CPD) points. This unique initiative will take place at Optical Express' state of the art surgery centres across the UK. Participants in the programme will be paid £150 per full day for taking part.
If you are interested in taking part in the programme, or would like to find out more, click here and register your details. An Optical Express representative will be in contact with you.