BCLA CLEAR interactive 3 - Effect of contact lens materials and designs
Closing Date: 09/09/2022




In the third in a series of articles summarising the key findings of the BCLA CLEAR publications, a major review of the published evidence relating to all aspects of contact lens practice, Claire McDonnell highlighted the influence of the eyelids, adnexal glands and blinking on contact lens wear.
Consider the details of the following case and then address the questions relating to it in your discussions. The source material article can be found here.
Case scenario for discussion
A 32 year old male patient has been wearing monthly replacement silicone hydrogel contact lenses for 5 years with a good deal of success. On previous annual aftercare appointments, you have found no concerns with his wear nor compliance with his care regime. He uses a multipurpose solution with containing polyhexanide as the preservative, and always includes a 'rub and rinse' step as advised. Other than occasional bouts of hay fever in the Spring, for which he uses oral loratadine, he has no significant health concerns.
He attends for an aftercare today, some 3 months prior to his annual appointment, because in recent weeks he has found his lenses less comfortable. Each set of lenses becomes increasingly uncomfortable as the month proceeds and, throughout each day, the lenses seem to become increasingly 'greasy' upon blinking. The patient really wants to be able to continue full time daily wear but is increasingly intolerant of his lenses. Indeed, he attends today without lenses having last worn them yesterday for 'around 4 to 5 hours max.'
Figure 1: shows the appearance of the palpebral conjunctiva after lid eversion.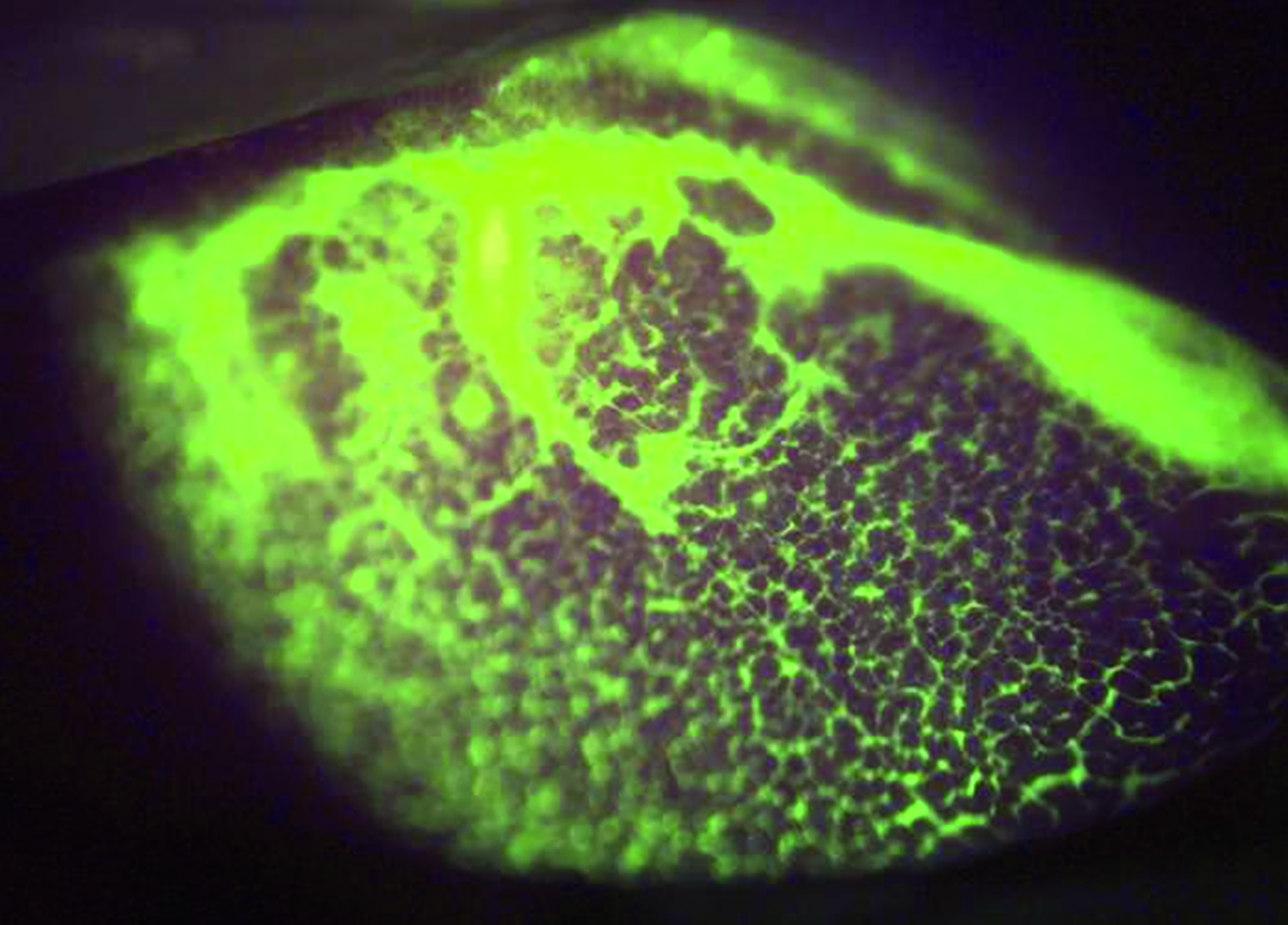 Questions to consider in your discussions:
Do you always evert lids at an aftercare?
What technique is being used to visualise the everted lid shown in figure 1?
What would you record in your records to describe this appearance?
What might be the cause of this appearance?
What management options might you consider in the best interests of the patient?
Interactive CPD Instructions
In order to be able to log one provider-led interactive CPD point to your MyCPD account, this is what you need to do:
Make sure you have read the article 'BCLA CLEAR – 3. Effect of contact lens materials and designs on the anatomy and physiology of the eye' by Dr Claire Mc Donnell
Arrange a time to undertake a discussion on the subject with a similarly qualified registrant; another optometrist or dispensing optician.
Read the case scenario and questions (above) and use them as the basis for the discussion with your colleague. Note, the discussion needs to address each of the questions outlined above and must be for longer than ten minutes
When finished, you then need to send an email to 'opticiancpd@markallengroup.com' as follows;
Subject box should state 'CLEAR Interactive 3'
Please state your name and GOC number
Please state the name and GOC number of the person you discussed the matter with
Please confirm you had read the source material
Please include a summary of your discussion, explaining your views and thoughts on each of the three discussion questions
Each submission will be read individually and, where needed, feedback will be given directly. Where the submission meets a required standard, you will receive an email confirming this which you can then use as evidence of completion allowing you to log one distance learning interactive CPD point.
A summary of the responses and discussions will appear in a future issue of Optician with comment from the authors.
Neil Retallic is President of the BCLA and Claire McDonnell is an optometry lecturer at Technological Univeristy, Dublin.
Source Material
Morgan PB et al. BCLA CLEAR - Effect of contact lens materials and designs on the anatomy and physiology of the eye. Contact Lens & Anterior Eye, 2021, 44, 192–219