A fortuitous practice opening
Author: Andrew McClean
Published: 01/02/2021
Taylor-West & Co Optometrists opened its third practice on 21 January after optometrist Sophie Taylor-West stumbled across an empty shop during a trip to Lewes with her mum.
The practice owner told Optician they went to the East Sussex town in September when shops were re-opening and the pandemic outlook was beginning to look more positive.
'We were having a coffee and noticed that there were at least three ladies who had really funky glasses on. I know the practices in Lewes have got some nice ranges, but I thought, "They didn't get those here. Those are Theos. I'll bet they got those in Brighton",' she explained.
Taylor-West started to think that there might be room for the type of services her practices offer and then discovered an empty unit on a corner in the Needlemakers building.
She explained that the building was a converted factory that had become a hub for independent shops, including a gift shop, book shop and a hairdresser.
Taylor-West said: 'It was the most prominent unit and I had one of those moments where you see an opportunity and knew it was for me. It was a bit spontaneous and quite fortuitous. Lewes is quite an artistic area, so it just seemed like what I could bring to the area was something that was lacking.'
Dispensing optician Ibo Ozhan has been appointed to lead the new team and brought experience with him from independent and multiple practices.
'He's just got the right amount of enthusiasm for styling people and he really knows his stuff,' she explained.
Until lockdown is over, the practice has limited opening hours, but it has started to welcome new patients with a pair of giant neon frames in the window.
'In the other window, we've suspended acrylic faces, which is an oval shape, glittery lips or a moustache with a pair of glasses balanced on the nose,' Taylor-West said.
Frames were displayed on their own shelves in the practice rather than on racks, so that each pair was showcased and not lost among a wall of eyewear, with overflow kept in an antique drawer.
Taylor-West explained: 'We're trying to encourage people to come in to be styled. We try and engage people rather than just letting them browse by themselves. I think it's more fun that way. It also helps us manage and minimise what patients are touching, which reduces the amount of sanitising required.'
Independent eyewear brands have been selected, including Kirk & Kirk, Mykita and Orgreen, as Taylor-West preferred companies who just make eyewear.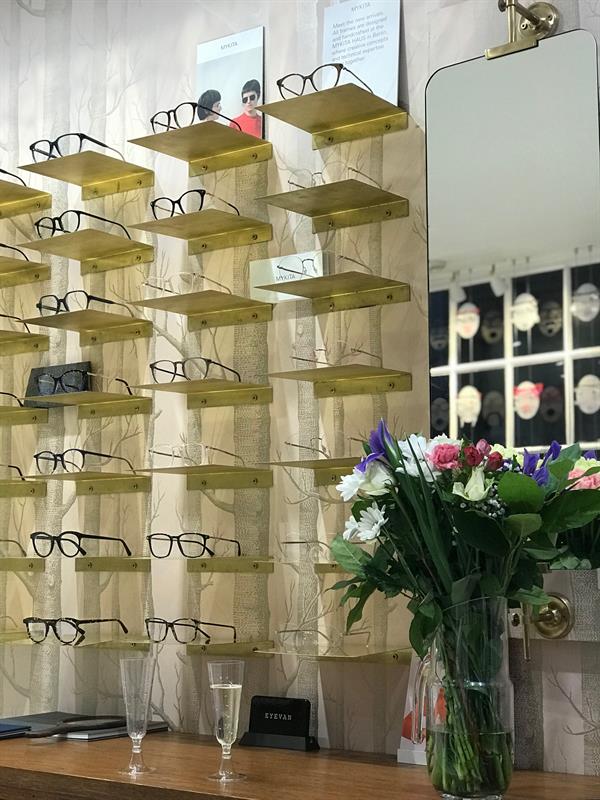 'If you're just lending your designer name to another company or factory that are making the glasses, it's never quite the same as a company that does nothing but obsess over their designs and their manufacturing. They always have the best product,' she reasoned.
Investment has been made in Topcon equipment in order to provide clinical excellence from the testing room for its patients, who were only offered private eye care.
'We hope that people are going to finish their test saying, "That was the most thorough test I've ever had" or "Thank you for explaining what astigmatism is. No one's ever told me what that is before." That's the sort of comment that we aim for,' she said.
The practice owner told Optician that the timing of opening during a pandemic was 'dreadful' but once the process had started, she didn't consider pulling out.
'I had a feeling that we're offering the right thing in the right place and having the most perfect premises just overrode any sense of sensibleness,' Taylor-West concluded.