Frames at Opti: Halls of frame
Simon Jones reports from Opti's main halls to seek out some of the fine independent eyewear on show at last month's Munich trade show
Author: Simon Jones
Published: 17/06/2022
Business builder
As a designer of 3D printed eyewear, product innovation has long been at the heart of Danish brand, Monoqool. But in recent years, the brand has considered ways in which it can help independent practices that go beyond product.
At Opti, Monoqool showed off two new approaches to helping practices – its branded Danish-designed furniture displays and the 'best seller concept'. The idea behind the best seller concept is that practices invest in a permanent display of 40 Monoqool frames, which the company says should yield sales of over 60 frames in the first year. Monoqool says the key to the concept is commitment to reordering the fastest selling styles, which increases patient engagement and maximises sales. The frame choice is based around sales data provided by Monoqool, with a handful of styles selected for their quirkiness.
'We have studied and developed this unique sales concept over time,' said Monoqool CEO Allan Petersen. 'It is tried and tested and very powerful as a sales strategy. After many requests from optical retailers we work closely with, we have now taken steps to formalise the Icon Best Seller Concept via a new printed guide that the optician can follow and always have at hand.'
Bee kind
Honey-coloured frames were showcased by several eyewear companies at Opti, but none as rich in tone and authenticity as WeBee. The Italian brand was created by Mario Pietribiasi, who spent 25 years at Safilo with experience in roles such as chief operations officer. WeBee's main buzz is, of course, bee conservation. Ten percent of the company's turnover goes toward schemes that support bees, including Bees for Development in the UK, which is presided by HRH Duchess of Cornwall.
The first collection includes 13 optical styles and 16 sunglasses that focus on wearable, easy-to-sell and sustainable models that are inspired by historical Italian eyewear designs and made from quality materials.
Pietribiasi tells Optician: 'We have recuperated from the past, a lot of details of the Italian eyewear industry from the '50s, '60s and '70s. For example, we have made a bumpy nose for more comfort and milled the frame in the back so it's better fitting. We have cut the front on the hinge at 45 degrees for a seamless look. The hinge is made in Italy and is embedded with rivets, while the core wire is a copper alloy to make it softer.'
Fly away styles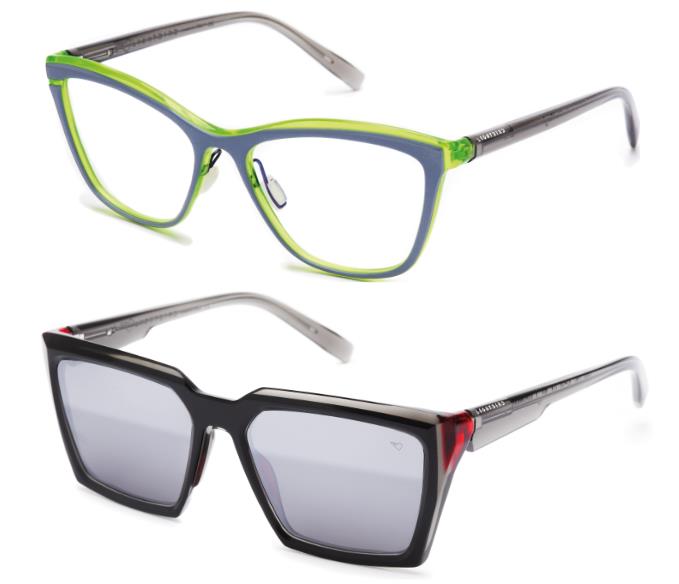 Italian brand Lightbird is an example of a brand that has grown with Opti. Starting in the Opti Boxes section in 2018, it has grown in stature and now exists within the main halls alongside established independent brands. Created by former Blackfin designer Corrado Rosson, Lightbird's ophthalmic frames and sunglasses are made in Italy from start to finish. Initial styles had an unusual aesthetic, with angular temple shapes and a unique lamination of aluminium and acetate on front silhouettes. More recently, frame shapes have matured slightly, but innovation remains.
Women's ophthalmic frame Light Time is a perfect example, with its flattering and wearable cat's eye shape being fused with aluminium lamination and punchy neon green acetate. The angular temples remain, but their form has been pared back, with the Lightbird logo visible only on the top surface. Sharp angles do much of the heavy lifting on men's sunglass, Anchorman. Its shape is loosely Wayfarer based, but every corner and line has been sharpened. Many of the frame's surfaces have been aggressively bevelled to create even more angles, and temples feature sharp sculpting, along with the brand's signature QR code plaque, which gives the wearer more information about the frame and the company.
Look on the bright side
Danish design is renowned around the world for its simplicity and efficiency, and many of the country's eyewear producers subscribe to the same way of thinking, with many frames sharing a similar brooding style. Ørgreen was keen to change this, so it created the Havn collection of stainless steel frames that focused on colour and playful manufacturing and design.
Women's ophthalmic frame Evergreen is defined by its large, almond shaped silhouette and use of colour contrast. A hand painted outline follows the curvature of the lens, exposing the base colour at the temple lugs. The brand said this outline also has the effect of emphasising the wearer's eyebrows in a similar way to makeup. From the titanium collection Imaginary Lines comes the unisex style Revolution ophthalmic frame. The hexagon-shaped frame has a geometric top line mixed with soft flowing lower lens rims to create a feeling of contrast from the silhouette. Soldered dropped temple lugs provide more angular contrast, as does the metallic silver and matte orange colour scheme.