Heavy investment in a new student eye clinic in the heart of Portsmouth has provided a further glimpse of the direction of travel for optical education. Joe Ayling reports
New optometry courses created in undersupplied areas of the country have forced programme leaders and the wider profession to rethink the training of young optometrists.
Since the opening of an optometry course at Plymouth made waves in 2011, no fewer than five institutions have followed suit. The changing landscape has added a new dimension to the GOC's ongoing Education Strategic Review, with pressure mounting for the regulator to get it right for both undergraduate courses and CET.
New courses have been established at the University of Hertfordshire and the University of the West of England, while the University of the Highlands and Islands and University of Central Lancashire (UCLan) both await GOC approval.
Meanwhile, the University of Portsmouth opened the doors to its student eye clinic this term, having taken on a first cohort of students for its four-year optometry masters course in September 2016.
Its eye clinic (Optician 19.10.18) has not only set out to provide more patient facing experience but give back to the local area.
Malcolm Maciver, the University of Portsmouth's senior lecturer in optometry, told Optician: 'Within the wider Portsmouth area, there are regions where deprivation and a lack of understanding of NHS eligibility can serve to act as a barrier to accessing eye care services. We wanted to lower that barrier and offer a service back to the community and play a part in improving visual and ocular health in the wider Portsmouth area.'
Using latest technology Optometry at Portsmouth has incorporated clinical work placements into years three and four of the course.
Its new clinic, which was completed in October, included five conventional examination rooms, four dual examination contact lens rooms and a six-metre examination bay designed for paediatric and further investigation examinations.
Technology at the facility included an ultrawidefield imaging system, swept-source OCT, binocular vision examination and training equipment, intuitive colorimeter and Dyopsis visual electrophysiology unit. Each consulting room was fitted with a digital slit lamp biomicroscope linked to an electronic record keeping system.
Maciver said: 'Student response has been positive to the facility, commenting on the benefits of training on contemporary and emerging technology, enabling them to prepare not only for the entry to community practice, but the preparation for the changes that will occur in the optical profession in the coming years.
'Feedback so far has been fantastic from everyone involved in the eye clinic, students, supervisors and patients alike. Course staff have received several emails from patients detailing how exceptional the service of the eye clinic has been.'
Furthermore, interest in the centrally-located clinic had been greater than expected, with patient booking among students, staff and members of the general public only available around two months ahead.
In kitting out the eye clinic, course leaders at Portsmouth wanted to react to increasing demand for optometrists to provide enhanced services in a high street setting.
Maciver added: 'It is clear that the profession of optometry will change substantially in the coming years, progressing towards a more medically-orientated community eye care model, as it has over the last decade. The emergence and standardisation of community triage and shared care schemes such as the Mecs will only continue.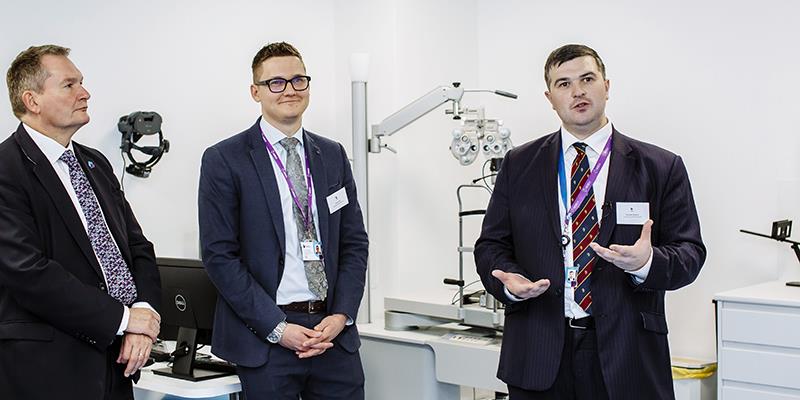 University of Portsmouth vice-chancellor Professor Graham Galbraith, clinic manager Daniel Stride and senior optometry lecturer Malcolm Maciver

'Historically, when receiving optometry training students would be given exposure to medical-eye care, but largely this would be supplementary to training towards traditional community refractive care.
'I would expect in the coming five to 10 years that optometry courses will change – as indeed they need to – to prepare students to provide medical eye care services in the community. Such changes that are likely to occur would be an enhancement of the clinical and medical eye care training received by students, including the integration of therapeutic [independent prescriber] training into the undergraduate syllabus.'
Real world experience
As part of its education review, the GOC has collated a Perspectives of Optical Education report spelling out the need for undergraduates to gather more clinical experience.
Many newly qualified optometrists and supervisors did not feel that undergraduate training adequately prepared students for entry to the profession, where 'they may potentially be expected to examine several successive patients in a 45 minute to one-hour window'. In the Portsmouth eye clinic, students may be expected to undertake up to four examinations a day and rotate between clinics undertaking primary care, contact lens examinations, further investigations, imaging, paediatrics, low vision, binocular vision, visual stress and dispensing.
'With this rigorous schedule we have provided students with a substantial clinical training package – and many of our students have completed substantially more examinations than required to achieve the GOC's stated minimum requirements. Moving forward it is our aim to draw clinical training forward in the course, using the university eye clinic, observational and community practice rotations to further clinical training in the earlier years of training.'
Meeting local demand
Maciver said the College of Optometrists' latest Optical Workforce Survey identified an imbalance of workforce, with some areas experiencing a surplus of clinicians while others suffered a shortfall.
The south-east of England has historically seen a shortage of optometrists and dispensing opticians, which the course at Portsmouth was designed to reduce. While students on early cohorts were recruited from throughout the country, a substantial number of applications to the course have been received from local prospective students.
Courses planned elsewhere in the country will hope for similar levels from applicants and the local community, plus their commitment to stay on. With GOC approval hoped for 'in the near future', UCLan has appointed a vision science lead and senior lecturers for its optometry and ophthalmic dispensing courses. The University of Highlands and Islands has also been recruiting optometry staff in Inverness and Elgin ahead of its proposed 2019 start date.
As evidenced by Portsmouth, those developing new syllabuses and teaching materials will be carving out a new direction of the travel before the Education Strategic Review has even been finalised. Highlands has already set out for placements from year one, while the selection for places at Portsmouth screens for personality as much as A-level results.
Maciver added: 'It is important to note that while optometry remains a challenging and rigorous course for those studying it, at the University of Portsmouth we recognise that students learn in different ways. We appreciate that success in optometry relies as much on interpersonal skills, empathy and logical reasoning as much as traditional academic ability.
'Students are becoming more discerning, appreciating the changes to the profession and are seeking to apply to a course that will not only prepare them for contemporary practice, but develop them for the future of the optical profession.'