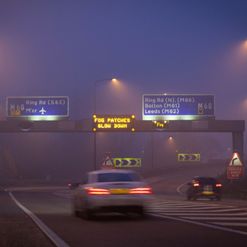 Picture credit: Rex Features
A surge of people losing their driving licences due to poor vision has been reported by a retail motor organisation.
Research by Co-operative Motor Group found that 4,009 UK drivers had their licences revoked due to failed vision in 2010. This compared to 3,014 licences being lost in 2009.
The number of drivers in the UK to have their licences revoked due to failing eyesight has more than doubled in the past four years, from 1,597 in 2006.
As previously, glaucoma continued to preclude most people from driving last year, accounting for 1,146 of the licences revoked.
The next most common causes were retinopathy, visual field defects and cataracts, the research found.
Tony Guest, managing director of the Co-operative Motor Group, said: 'Good eyesight is essential to safe motoring, and we would urge anybody who has concerns over their vision to contact a specialist. There is no room for complacency when it comes to road safety.
Register now to continue reading
Thank you for visiting Optician Online. Register now to access up to 10 news and opinion articles a month.
Register
Already have an account? Sign in here