Optometrist helps cut A&E queues
Author: Joe Ayling
Published: 12/04/2016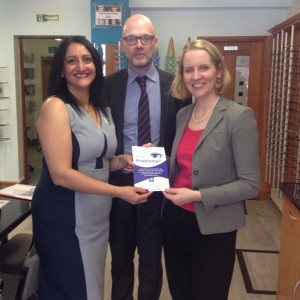 An optometrist reminded her local MP of the importance of high street eye care services.
MP for Wolverhampton North East Emma Reynolds (right) visited Prab Boparai Opticians in Bushbury, where she was told early detection and treatment is the best defence against sight loss.
Optometrist Boparai (left), also chair of Wolverhampton Local Optical Committee, said: 'It was really great to meet with Emma, and talk through the services in the Wolverhampton area, particularly the Primary Eye Care Assessment and Referral Service (PEARS), that since its introduction has allowed 80% of patients attending optical practices with minor conditions to be managed within those practices.
'As Optometrists, we are highly skilled to manage patients with many eye conditions who often otherwise end up in A&E and clog up the overburdened parts of the NHS.'