Zeena is one of many examples of progression within Boots Opticians. From shop floor to the testing room, check out her journey to becoming an optometrist with Boots Opticians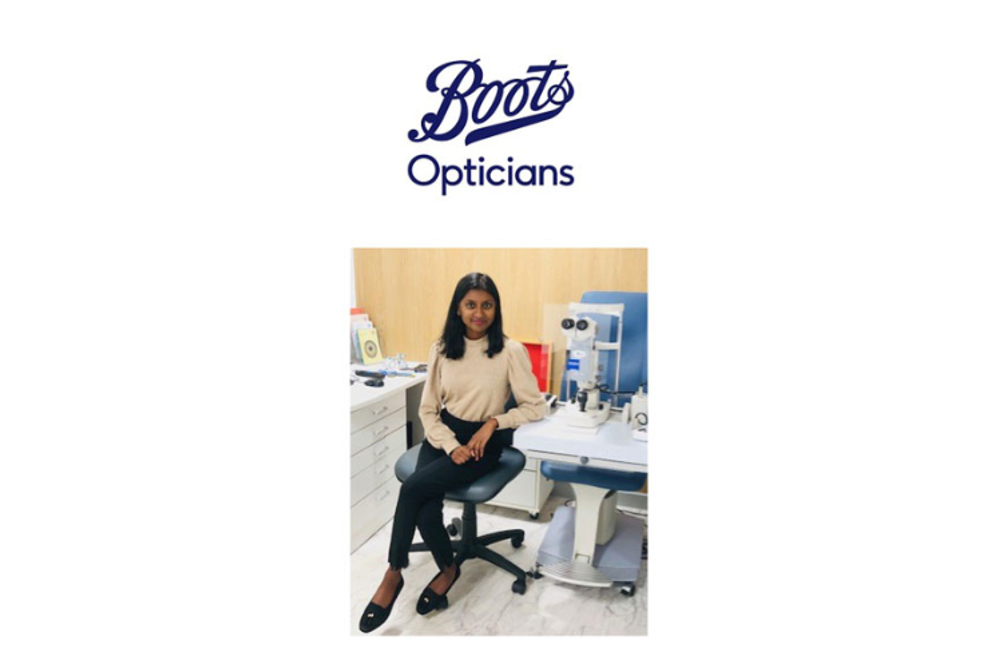 Zeena's Story
My career journey into the world of optics started when I was a first year optometry student at City University, London. I worked every Saturday as an optical consultant at Boots Opticians, Harrow. This gave me an initial insight into the day to day running of an Opticians store and the many roles that there are within the team.
I developed many skills during this time that have all aided in my career to date. This included working as part of a multidisciplinary team, building patient rapport and the whole customer journey.
Working in this environment also aided my studies, as I learnt how to dispense and I spent time talking to optometrists who gave me advice and support regarding my future career.
I worked here until I finished my degree and then I moved to Boots Opticians, Watford, where I completed my pre-registration year.
This was a challenging yet rewarding year where I developed and enhanced my skills to become an independent, fully qualified optometrist.
What do you enjoy most about working at Boots Opticians?
There are many aspects of Boots Opticians that make working here enjoyable. There are always opportunities to network and grow as an individual.
We as a store, have multiple clinics and many optometrists who you can learn and develop from. Some Boots stores, like Watford, have enhanced services such as post-operative cataract assessments.
Having this clinic is a perfect opportunity to learn about enhanced community-based services that you can get involved in the future with Boots Opticians. It is evident that Boots provide a high level of service and care for patients and that is an extremely important criteria for a company that I would work for.
As an optometrist, having the right equipment to do your job effectively is very important. The equipment provided at Boots is excellent, including many stores having OCT which is invaluable in practice. This allows me to conduct my role to the best of my ability.
Can you talk us through your training since being part of Boots Opticians?
When completing my pre-registration year, I had an incredible amount of support from the learning and development team who conducted workshops every other week to aid us through the tough assessments we were faced with in the scheme of registration.
I was able to contact the team if I had any questions and they would provide invaluable feedback on assessment results and would observe our own eye tests. Now, as a newly qualified optometrist, the transition can be quite a jump, however, there is a newly qualified programme in place to support us and training programmes to benefit us as we develop in our career and become more confident in our abilities.
How was your pre-reg year with Boots?
I feel very lucky to have completed my pre-reg year with Boots. First and foremost, I had two joint supervisors, Suhail and Tarun, who are highly experienced and supported me through the whole process from day one.
My supervisors would always find ways to help with any challenges faced along the year and made sure I understood everything from the patients I saw in practice. The year consisted of non-stop assessments and therefore you had to balance working full-time, studying and finding time to relax to maintain a healthy balance.
As mentioned above, the workshops Boots provided prepared us well, which allowed me to conduct my assessments confidently and succeed. Due to the training provided by Boots, my supervisors and support from the team at Watford itself, I was successfully able to complete my pre-registration year within 12 months and pass my final OSCE at first attempt.
I would not have been able to achieve this without the support network Boots provided for me.
Can you share your proudest moment so far with us?
My biggest stand out moment would be finding out that I had passed my final OSCE and had become a fully qualified optometrist. It was a great opportunity to look back to how my career started with Boots Opticians three years ago as an optical consultant, whilst being a university student and progressing in my career.
It was so great to hear how the whole team at Boots Opticians were very congratulatory and to know that my supervisors were proud of my achievements. It feels like a big achievement and relief after a very tough year of working, with intense studying and assessments, but it was all worth it in the end to achieve my end goal and to now be able to really develop my career further.
What's next for you?
I strive to develop my career further and make most of opportunities that are provided by Boots Opticians. I also would like to further my clinical abilities and may look to complete professional development courses and enhance my scope of practice.
To hear more about working at Boots Opticians as an optometrist, please register your interest via the link here.