Are you an optometrist in search of a more fulfilling career path? Perhaps you'd like a better work-life balance or want to make a bigger impact. If that sounds like you, it's time for OutsideClinic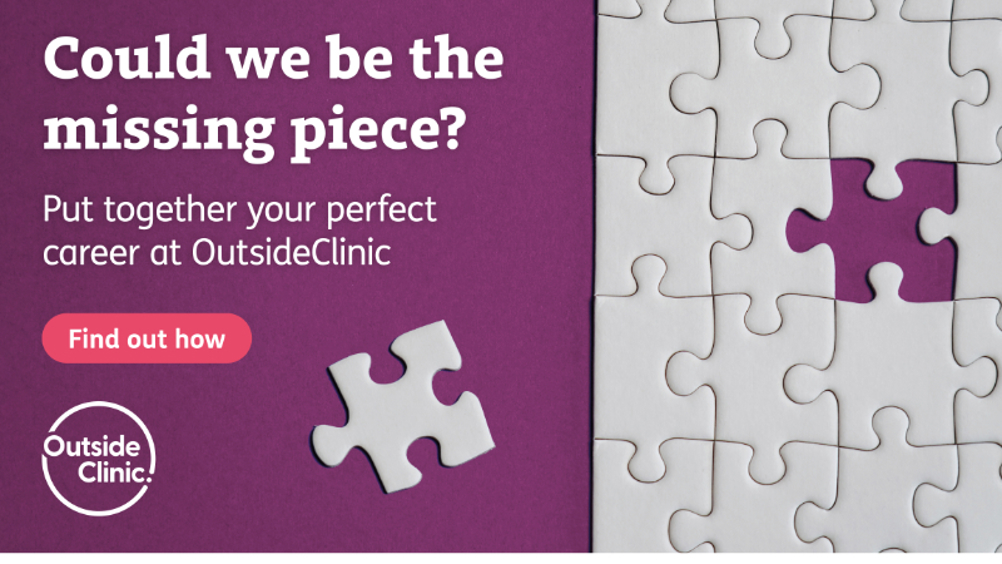 The Perfect Fit for You 
At OutsideClinic, we understand that every optometrist's career journey is unique, like the individual pieces of a jigsaw puzzle. Rest assured - we can help you find the perfect fit, allowing you to complete your career puzzle with the satisfaction of knowing you've found your calling. We offer a range of opportunities for locum, part-time, and full-time roles, Joint Venture Partnerships, and relocation packages available - all tailored to suit your individual needs. 
A Better Work-Life Balance 
Are you missing more freedom in your life? We've made it our mission to provide flexible work options that cater to the diverse needs of our optometrists. Our commitment to no weekend working is just one way we support a better work-life balance, giving you the time and space to enjoy life outside of work. With OutsideClinic, you can create a career schedule that works for you, striking the perfect balance between professional growth and personal well-being. 
Experience the Power of Partnership 
Needing a spark in your career? Consider Joint Venture Partnerships (JVP) with OutsideClinic! We are excited to offer a unique behind-the-scenes Joint Venture Partnership experience at our new Swindon head office. We invite you to witness the power of partnership first-hand by meeting our expert team and trying our state-of-the-art equipment.
This immersive experience will provide valuable insights into the benefits of partnering with OutsideClinic, showcasing the support and resources available to help your business flourish. Take advantage of this opportunity to explore the possibilities of a rewarding partnership with OutsideClinic, where we are committed to empowering you to achieve your professional and entrepreneurial aspirations. For more information, see here. 
A More Passionate Job 
Do you need to reignite your passion for the job? Many of our 100+ clinicians joined us to seek a new challenge after becoming tired of working on the high street. At OutsideClinic, we believe in fuelling your passion for optometry by providing the opportunity to make a difference to people's lives and with no day ever the same, you will not feel tiresome of a domiciliary career.
From residents in care homes to housebound individuals with limited access to eye care services, you can wake up each morning knowing that you will make a difference in someone's life. That feeling is invaluable – it could just be the final piece that completes your career!  
By joining our OutsideClinic team, you'll rediscover the joy and excitement that inspired you to pursue a career in optometry in the first place. With flexible work options, a focus on work-life balance, and the opportunity to significantly impact people's lives, you'll rediscover your passion for your profession. Take the next step in your career and join a company that values and supports its employees – find your perfect fit at OutsideClinic.