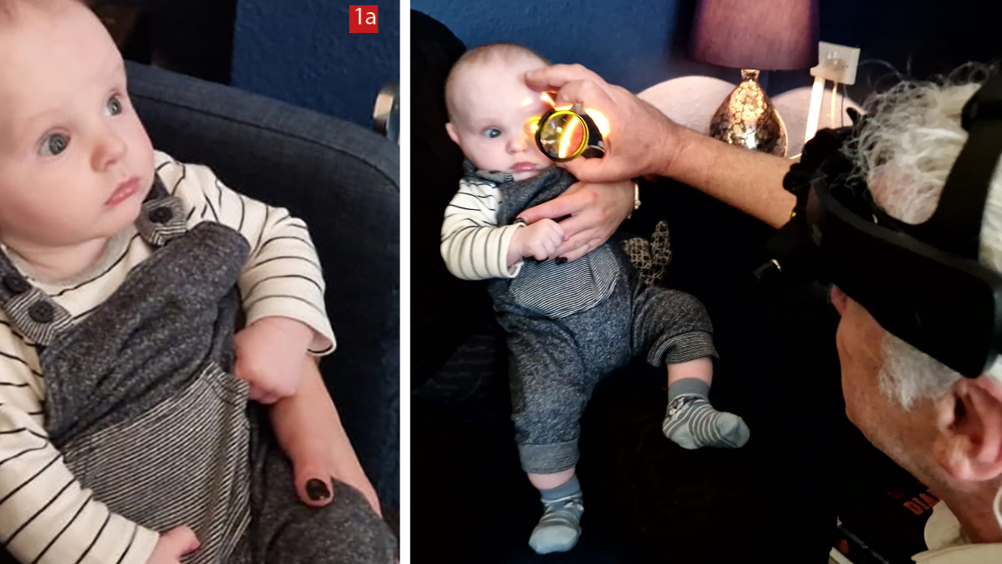 In the second of his reviews of the new Heine Omega 600 headset binocular indirect ophthalmoscope, Bill Harvey describes three cases where it proved successful in a domiciliary setting, sometimes for novel reasons.
In a recent review of headset binocular indirect ophthalmoscopy (HBIO), I went through the several advantages offered by this technique. The increased working distance and dynamic positioning make examination of the very young easier than traditional direct ophthalmoscopy and slit-lamp based techniques. Similarly, elderly people with loss of media clarity might be better assessed, especially in the home environment where a slit-lamp evaluation is not easy.
In this short article, I highlight three recent cases where the new Heine Omega 600 headset allowed views that would otherwise have been challenging, if not impossible.
During a routine domiciliary assessment of the mother of six-month-old JB (figure 1a), she asked if it might be possible to have a quick look at the infant to check if all seemed well for his young age. Using dynamic retinoscopy (without cycloplegia), and extensive use of a small toy, a low (+1.00DS) hyperopic spherical correction was confirmed, along with equal pupils and red reflex.
Register now to continue reading
Thank you for visiting Optician Online. Register now to access up to 10 news and opinion articles a month.
Register
Already have an account? Sign in here