Emma White explores how suppliers are supporting practices with screening and clinical decision-making

Mainline Instrument's iCare DRSplus
Technologies including fundus photography, laser scanning ophthalmoscopes and optical coherence tomography have long been used to create detailed retinal images for the detection and management of ocular diseases. Today, artificial intelligence (AI) is used increasingly in imaging equipment and it continues to evolve with the ability to diagnose ocular conditions as effectively as trained optical professionals.
As the NHS continues to struggle with an ageing population and increasing numbers of patients with ocular conditions, AI techniques can help to reduce the burden on secondary care and enable eye care professionals to deliver a more effective and efficient health service with fewer costs downstream.
Here, three equipment and instrument suppliers share how AI is increasingly used in their devices to benefit optical professionals and their patients and how they are supporting practices with screening and clinical decision-making.
BiB Ophthalmic Instruments
AI is used more and more in the range of Optopol Revo optical coherence tomography (OCT) devices (pictured) that are distributed by BiB Ophthalmic Instruments.
'Many of the up-and-coming software releases are set to feature more artificial algorithms to aid more precise diagnosis using structure recognition as well as enhancing overall image quality,' says Tim Baker, group CEO of BiB Group Holdings.
Optopol's full range of OCT instruments now features AI techniques, including AI cornea segmentation algorithms, which Baker says 'provides precise and reliable algorithms for analysing the epithelium and stroma layers'.
AI lens segmentation algorithms, meanwhile, provide a high level of precision for challenging B-OCT cases as well as auto recognition of the main structures for precise measurements. It also allows moving of the callipers in cases of virtual discrepancies, while allowing for artefacts. AI DeNoise is a further algorithm development from BiB, which removes noise
from the tomogram for the 'highest image quality'.
To support practitioners with general screening and the interpretation of everything from OCT scans to topography, plus useful tutorials to get the most out of their equipment, the company has created a new education platform. Accessible to all practitioners registered with the service, Baker says: 'Customers can access detailed video tutorials that aid in getting the most from the device as well as providing assistance with interpreting the results.'
Clinical images and data can easily be exported to any electronic management records (EMR) or practice management system, as a Jpeg, PDF or a tomogram series for review. 'As importantly, images can be exported in Dicom [Digital Imaging and Communications in Medicine] format, which is soon to become the standard and indeed will be the only accepted method of sending medical images for referrals,' Baker adds.
Heidelberg Engineering
Heidelberg Engineering has established a new integrated component called AppWay via the latest version of its Heyex2 image management platform. Appway serves as a conduit from images to a third party app provider.
'In the case of AI, this finally opens the gates to use it as a viable tool through the secure, anonymised transfer of data to and from the app, which returns the information into Heyex2 with a report,' says Tim Cole, clinical affairs manager at Heidelberg Engineering.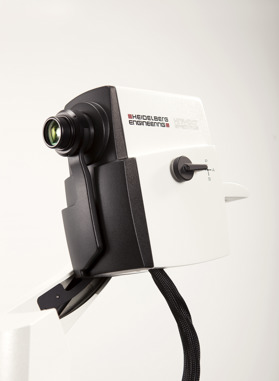 Heyex2 is the imaging platform for Spectralis (pictured right), Anterion and historical Heidelberg products like the HRT and HRT3 RCM. With the added capacity to host images from most other medical imaging devices and integrate with EMRs and hospital PACs systems, Cole describes the imaging platform as 'the future of image management'.
Cole says a third party app provider can be any company that created a tool for image analysis, which has agreed on a contract with Heidelberg Engineering. 'This can range from AI tools to pretty much anything in terms of analysis of OCT or fundus images or even any type of image hosted by Heyex2. The possibilities are immense,' he says.
While AppWay is used to generate a report and return it to the sender, the third party app providers do not record a copy of the data. However, Cole says this 'could be an option' if an agreement is set in place with the healthcare provider following patient consent.
'We are in the midst of an exciting yet challenging era where there are numerous technologies available, but no real conformance. Heyex2 has the potential to open the doors to this new wave of technology, in a safe and effective way, to give clinicians the tools they need to combat the huge challenges we now face in the wake of a global pandemic and an ageing population,' he adds.
Mainline Instruments
Mainline Instruments supplies ophthalmic equipment in the areas of fundus imaging, OCT, anterior and posterior diagnostics and tonometry to support UK practices with screening and
diagnostics enabling clinical decision-making.
The company currently supplies two imaging devices that incorporate AI: the iCare DRSplus and the Optomed Aurora IQ (pictured below). The iCare DRSplus Confocal Fundus Imaging system, with white LED illumination for detail-rich images, offers 'fast and effortless' screening for eye diseases. iCare Illume, a specialised screening AI software, helps to detect the early signs of diabetic retinopathy, age-related macular degeneration and glaucoma.
AI 'reliably and efficiently' reviews images, saving valuable time, enabling early intervention and helping to optimise workflows. 'The key advantages include a fully automated workflow, high quality, detailed images without dilation and Illume Connect, an option to also share referrals outside of the organisation,' says marketing manager Nader Naccouzi.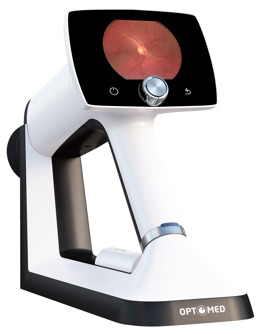 For the first time, screening is possible for all patients, including those with ocular media opacities, such as cataracts and vitreous cloudiness. 'The iCare DRSplus fundus imaging system is intuitive and requires minimal staff training. High quality images are automatically and securely stored and forwarded for processing by AI. The report is instantly available and can be discussed with the patient during the same visit,' Naccouzi adds.
The Optomed Aurora IQ handheld fundus camera, meanwhile, features integrated cloud connection, enabling images to be sent to an optional AI service for the analysis of diabetic retinopathy changes with results instantly shown on the camera screen.
'Artificial intelligence improves the quality and accessibility of eye screenings and Optomed Aurora's AI software, Avenue AI, is considered the gateway to artificial intelligence services,' says Naccouzi. 'With the cloud-based system, we are able to integrate different AI algorithm providers' services with our cameras and screening software. With AI, it is possible to extend diabetic retinopathy screenings to reach wider patient groups as well as diagnosing other eye diseases such as suspected glaucoma or age-related macular degeneration.'
In addition to eye diseases, Naccouzi concludes that analysing retinal images with AI will also be able to detect signs and risk factors for various cardiovascular and neurological diseases.
'High quality images are automatically and securely stored and forwarded for processing by AI. The report is instantly available and can be discussed with the patient during the same visit.
'Many of the up-and-coming software releases are set to feature more artificial algorithms to aid more precise diagnosis using structure recognition as well as enhancing overall image quality.'