BCLA CLEAR interactive 4: Scleral contact lenses
Closing Date: 08/11/2022




A scleral lens can be defined as a lens fitted to vault over the entire cornea, including the limbus, and lands on conjunctiva overlying the sclera. Scleral lenses are becoming more popular and are indicated for a number of reasons.
The BCLA CLEAR scleral publication provides a brief historical review of scleral lenses and an account of contemporary scleral lens practice including common indications and recommended terminology. The report illustrates in detail recent research on ocular surface shape, scleral lens fitting, on-eye evaluation, instrumentation, contact lens management, the importance of practitioner intercommunication and collaboration in a scleral lens practice. The paper also explores the potential future application of scleral lenses.
In Optician 02.09.22, Dr Melissa Barnett and Dr Karen Carrasquillo wrote a review article of the BCLA CLEAR paper, and this is to be the source material for a new interactive CPD exercise. This offered an overview of lens design, indications for their use, information about fitting, and details about post-fitting management.
Background
Despite the increasing interest in and use of scleral contact lenses in the UK in recent years, most ECPs in primary care will have limited experience of them. It is with this in mind that this CPD exercise has been developed.
Having read the source material, consider the following case scenario and then discuss the accompanying questions. Remember, even if you have limited or no experience with scleral lenses, your opinions and thoughts are still valid in any discussion.
Figure 1: Appearance after lens removal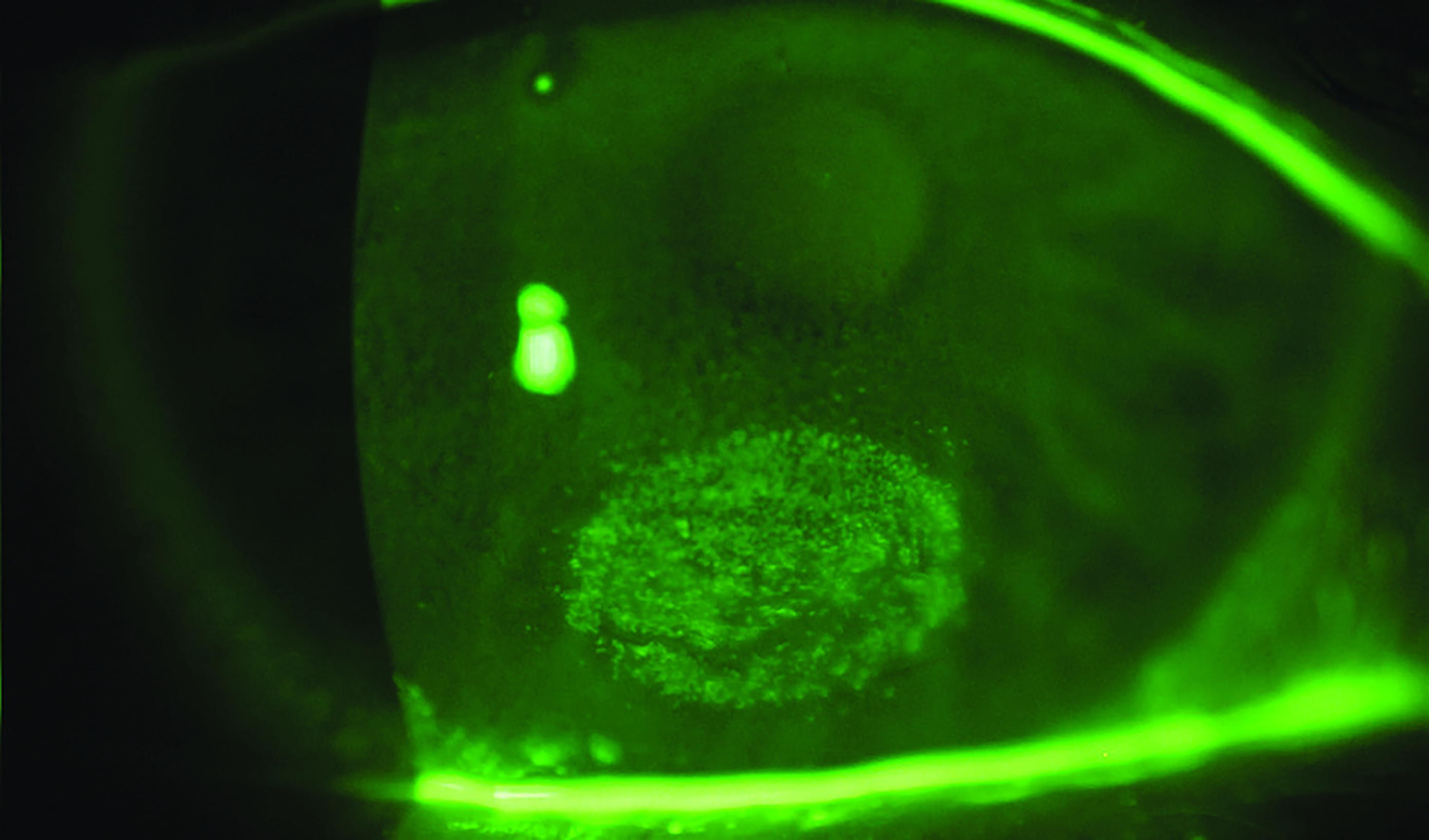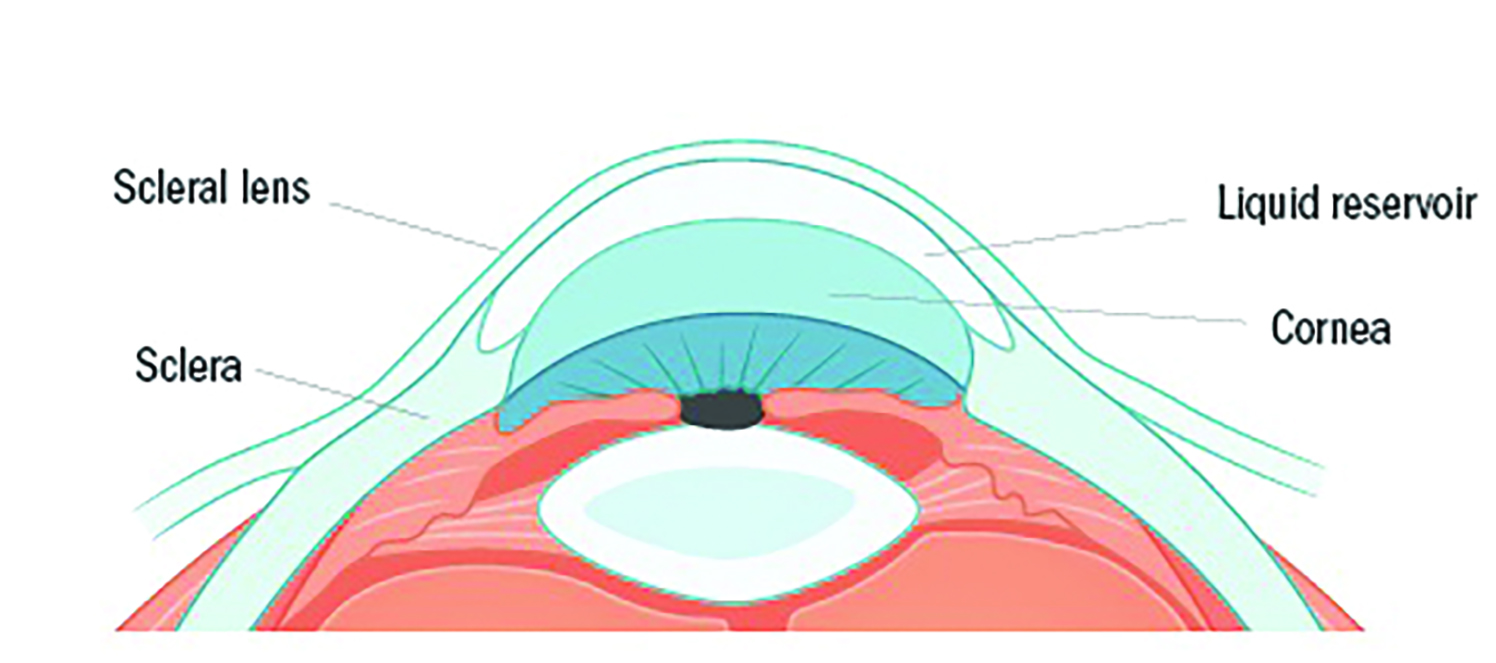 What is a scleral lens?
It is a lens fitted to vault over the entire cornea, including the limbus, and lands on conjunctiva overlying the sclera, as shown below.
It is filled with sterile preservative-free saline, creating a fluid-reservoir that provides ocular surface support, protection from the environment and visual rehabilitation.
Because it rests on the sclera and vaults the cornea, it provides great comfort.
It has broad indications across the entire corneal disease spectrum, ie irregular corneas and ocular surface diseases.
There is a broad range of diameters to choose from 14 to 23mm.
Lenses are typically manufactured from high Dk fluorosilicone acrylate materials.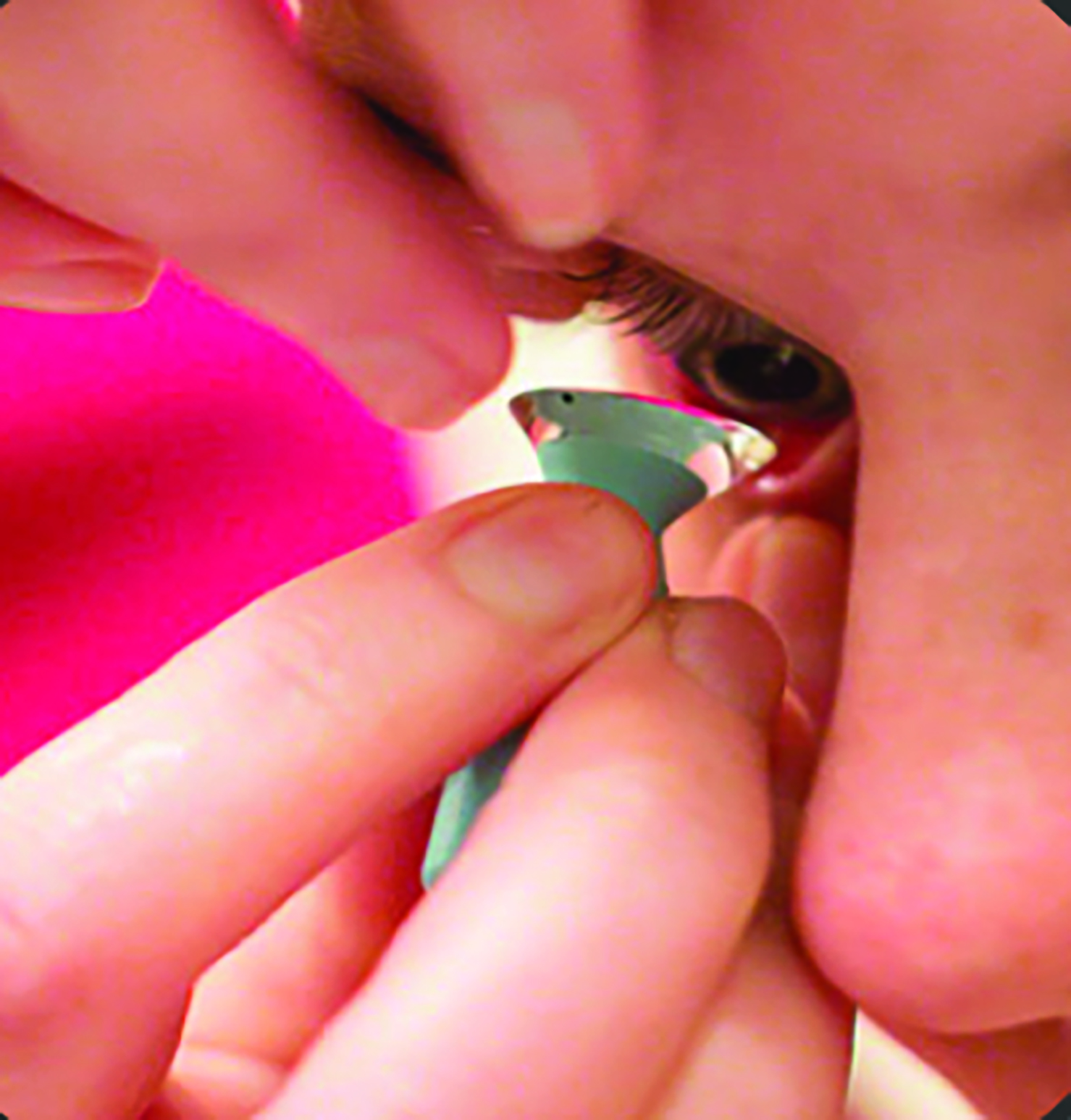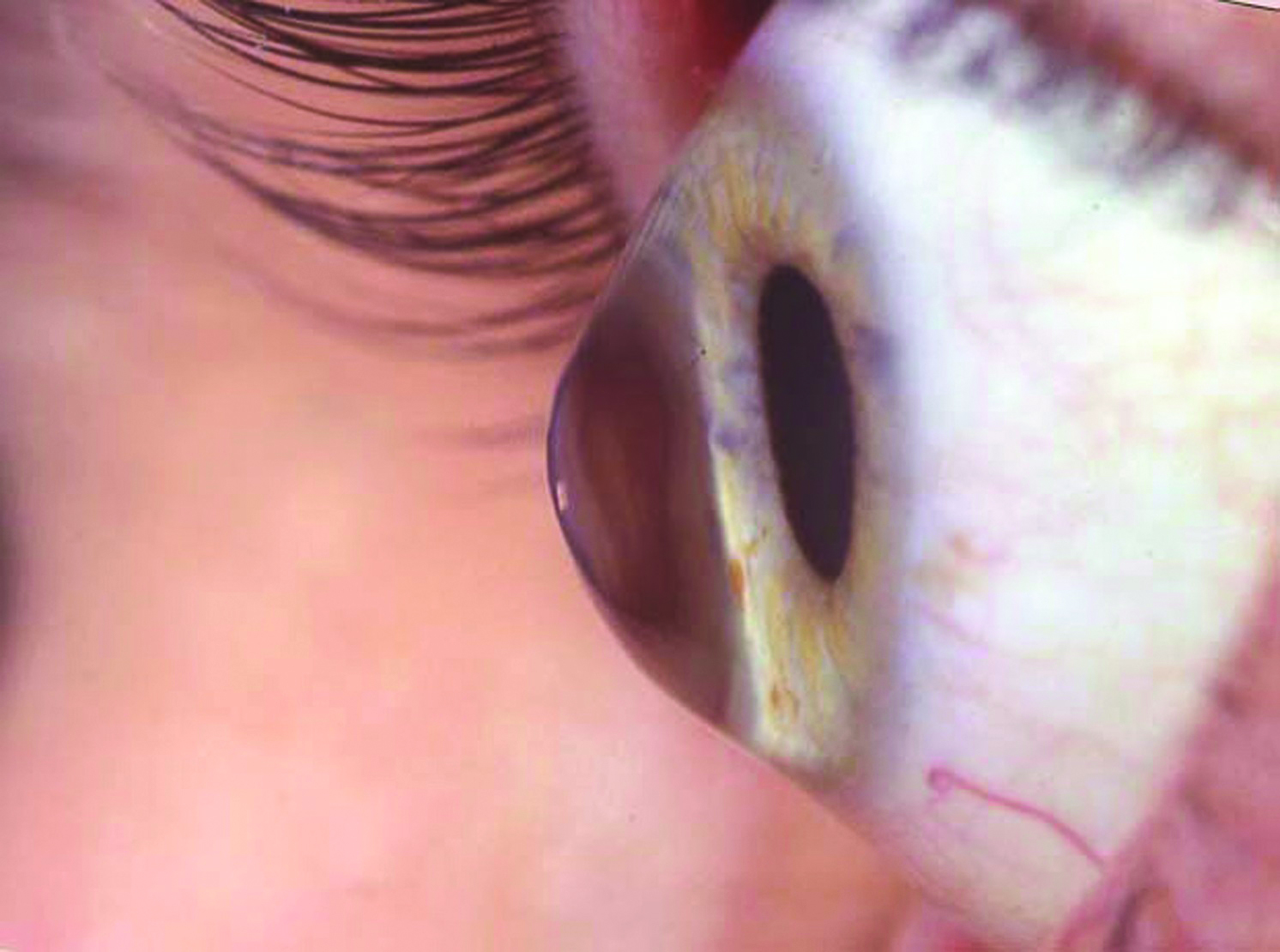 Case for Discussion
A patient who has been previously fitted with scleral lenses in a hospital department has contacted your practice. They are unable to attend their six-month aftercare appointment at the hospital and have asked whether your practice might be able to offer this service. They do not require a full eye examination, as this is not due for another six months. You are much nearer and the hospital is happy for you to do so if you have the capability.
What might be the reason that this patient was fitted with scleral lenses in the first place?
What would you say is the minimum equipment to be able to undertake this aftercare?
What would be the key signs and symptoms to look out for when undertaking an aftercare on a scleral lens wearer?
When assessing the cornea with fluorescein after lens removal, you see a discrete zone of staining (figure 1). What might be the cause of this and what course of action (either by you or the hospital clinic) might be indicated?
Interactive CPD Instructions
In order to log one provider-led interactive CPD point to your MyCPD account, this is what you need to do:
Make sure you have read the article 'BCLA CLEAR – 4. Scleral Contact Lenses' by Dr Melissa Barnett and Dr Karen Carrasquillo.
Arrange a time to undertake a discussion on the subject with a similarly qualified registrant; another optometrist or dispensing optician.
Read the case scenario and questions (above) and use them as the basis for the discussion with your colleague. Note, the discussion needs to address each of the questions outlined above and must be for longer than 10 minutes
When finished, you then need to send an email to 'opticiancpd@markallengroup.com' as follows;

Subject box should state 'CLEAR Interactive 4'
Please state your name and GOC number
Please state the name and GOC number of the person you discussed the matter with
Please confirm you had read the source material
Please include a summary of your discussion, explaining your views and thoughts on each of the three discussion questions

Each submission will be read individually and, where needed, feedback will be given directly. Where the submission meets a required standard, you will receive an email confirming this which you can then use as evidence of completion allowing you to log one distance learning interactive CPD point.
A summary of the responses and discussions will appear in a future issue of OPTICIAN with comment from the authors.
Neil Retallic is president of the BCLA.

Source Material
Barnett M, Courey C, Fadel D, Lee K, Michaud L, Montani G, van der Worp E, Vincent SJ, Walker M, Bilkhu P, Morgan PB. CLEAR - Scleral lenses. Contact Lens Anterior Eye, 44, 2021, 270-288